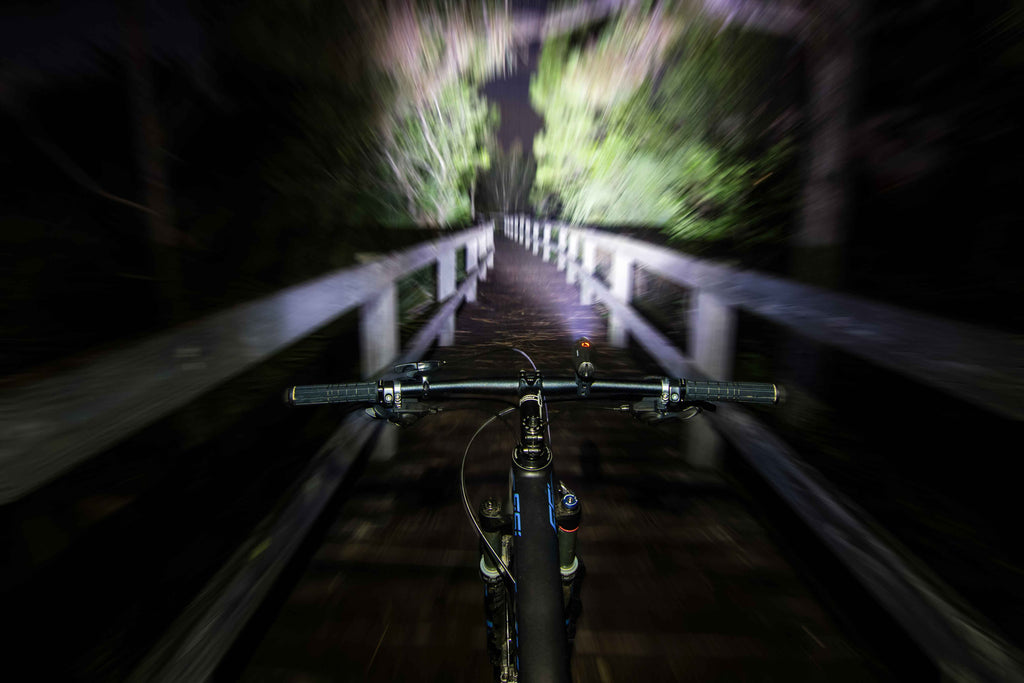 How to Prep for Night Rides
Dark streets, busy roads, obstacles in your path. These may be some of the reasons you've stayed away from climbing on your bike and heading out on a ride at night. But these shouldn't deter you. When riding at night, whether commuting home after a late night at the office, riding around the urban greenways or taking your mountain bike along trails at night,  there are tons of things you can do to get ready for your ride and make the experience an easy transition from day to night. Below are some tips in order to get ready for your next night ride.
Do You Have the Right Bike Light?
To get the best light, you'll need to figure out what type of riding you'll be doing. Are you just taking a quick stroll through your neighborhood? Are you commuting home or have you decided to take the mountain bike trails at night? Once you figure out which category you fit in, you'll understand better the type of light you'll need for your ride. To get an idea of the range of lights, we've included some links to the Lumintrail lights so you can compare and contrast their features. We also have a video available on "How to Pick the Right Bike Light for Your Next Ride."
For neighborhood riders, you are riding for short periods of time in well lit areas where you can generally see obstacles or traffic in your path. You most likely just need to increase your own visibility so other riders or traffic can see you. In this case you will need low or safety lights. Generally these are low power lights which normally do not have a lumen rating, very compact and run on disposable batteries. These type of lights include the Lumintrail  LTC-7043 and the LTC-15 & 15W.
For city commuters, the best advice is to try and take well lit bike paths along your journey. Many major city streets and city bike paths are equipped with good lighting but make sure you read the signs. Some city paths shut off lights at some point in the night.  For city commuters and those on urban trails, you are usually riding for medium periods of time in dimly or poorly lit areas where you not only need to be seen by oncoming traffic but need to illuminate your path for obstacles. You will likely need medium brightness level lights, typically rated from 700 to 1000 lumens. These lights are usually compact and come with either internal rechargeable batteries like the Lumintrail LTC-50 and LTC 7026 for shorter commute times or external battery packs like the LTC-1000 for longer run times.
For off road, mountain and downhill bikers, you are generally riding for long periods of time in areas with no environmental lighting. You don't have to worry about blinding oncoming traffic and you want as much visibility in order to see obstacles well in advance. You want high output light, typically rated between 1500 and 3000 lumens. These lights generally stay compact thanks to LED technology but almost exclusively have external battery packs for higher output and longer run times.  Many riders will ride with two lights, one mounted to the handlebars and the other on the helmet so they can safely move the light without adjusting the steering of their bike to prepare for course adjustment. Examples of these types of lights include the Lumintrail LTC-1600 and LTC-3000.
The reason a neighborhood or city commuter does not use the higher lumen lights rated at 1600 or 3000 is that you can blind other riders or oncoming traffic. When riding on regular roads or bike paths legally the maximum lumens your headlight can be is 1000 lumens. Mountain or downhill bikers are off road on trails and don't have to worry about traffic, only illuminating their path allowing them to use higher lumen rated lights.
Lights aren't the only item to consider for your night ride.
Sunglasses or Safety Glasses
It may sound weird to wear glasses at night if you don't need a prescription, but there are specific eye gear that can help you navigate the streets on your night rides. These are of course not the traditional sunglasses with the dark tint you wear during the day but rather shades with clear, yellow, or rose tinted frames to help you better see at night. They do this by cutting down on the glare from oncoming traffic as well as protect your eyes from any debris coming up from the road or trail.
Always be Vigilant
When riding at night, staying aware of your surroundings is the most important thing a rider can do to keep themselves safe. That means no riding with headphones or earbuds to listen to music or talk on the phone. If you are used to riding in a calm bubble during the day you'll need to switch to a more everything is trying to kill me mode at night. Keep your eyes and ears open to traffic, other riders, unexpected obstacles and potholes in your path. 
Another great tip for night riding is to reposition your body weight on the bike. You can alter your body position to take the weight off of your seat and put it squarely on the pedals. What this does is allow you to use your legs as suspension to soak up anything you might not see with your eyes first. Well trained legs "see" things long before your eyes do and may save you from things your eyes miss at night.   
Plan. Plan. Plan.
Whenever riding at night, regardless of location, make sure you know your route. You have Google at your fingertips as well as tons of apps on your phone that can help map out your ride. This way you can be aware of bike paths, trails or roads so you don't get lost.
If you unexpectedly have to stay late at work, and hadn't planned to do any night riding, you can always hit the hardware store for essential items. For instance you can get some reflective tape to use on your bike, your clothing and backpack. You can also pick up some safety goggles to protect your eyes.
Slow and Steady Wins the Race or at Least Doesn't Get You Dead
If on unfamiliar roads or paths, it's always best to take your ride slow. This obviously might not apply to the mountain or downhill bikers but for the rest of you riders, this is good advice when riding at night. If you aren't experienced riding at night or don't have the right equipment, it's best to take your time. You might even want to consider walking your bike in dark areas until you come to better lit paths.
Happy riding!
---