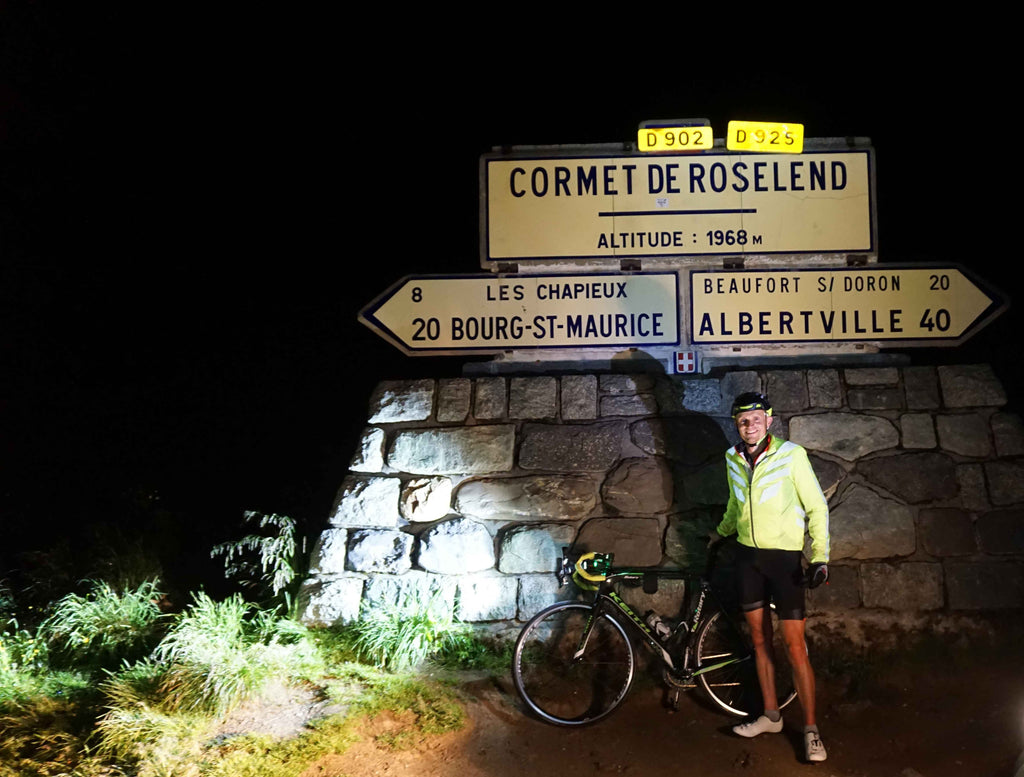 Everesting: The Climb to Immortality and a Company's Support of a Man Determined Enough to Try
Throughout history adventure seekers, dreamers, explorers have raced to be the first. The first to reach the north pole, to cross continents, to circumvent the globe and of course to reach the peak of Mount Everest. This mehemath of a mountain seemed unattainable for so long, a monumental undertaking that has become a yardstick, that which we measure all of our physical challenges by. The first ever confirmed summit of the rugged mountain high in the himalayas was completed in May 1953; since then endurance athletes have been continuing to race to claim more difficult climbs, harder mountains, and more intense records.
Everesting today is referred to as the achievement of completing a cumulative climb of 8,848 meters or 29,029 feet, the incline of Mount Everest, by bicycle. When did this become a thing and whose idea was it? In 1994 George Mallory, a mountaineer and cyclist in Australia was trying to build up his endurance level prior to retracing his grandfather's footsteps on the jagged incline of Mount Everest. Using a mountain on the outskirts of Melbourne, Mount Donna Buang, Mallory slowly built up his reps of the mountain, increasing the number of times he scaled it in a day. 20 years later Hell's 500, a Melbourn, Australia cycling club, are the custodians of the everesting concept. They took the original idea set forth by Mallory and have made it what it is today, a simple concept and yet an extreme challenge of strength, endurance and will. Pick any climb, anywhere in the word and ride repeat after grinding repeat until a rider has notched up 8,848 meters in vertical ascent. All in one ride, no sleep allowed.
Everesting can be done by anyone, anywhere in the world. It first gained popularity in Australia, then in the UK and finally in the US where fewer than 100 riders have accomplished the ride. As of 2016 there were 839 successful Everestings around the world. On July 3, 2017 that number increased by one when Greg Jacob, a French engineer with a passion for cycling and a goal of Everesting Mont-Blanc, completed his dream of a solo epic ride in less than 22 hours. With views of some of the most iconic Alps in the world, Jacob completed his quest with the help of partners from around the globe.
In May of 2017, after checking out some photos on their Instagram account, Jacob reached out to Lumintrail, a bicycle accessories company located in Morrisville, NC. He gave full disclosure that he had never even heard of Lumintrail before that day, but after reading their mission and checking out their website, he reached out to them about a possible partnership. Jacob was looking for help to make his dream a reality. Other partners were helping with the a custom bike frame as well as components of the bike itself. What he was still looking for was a company that could provide quality high power lights that could help him see up the intense climbs and steep descents, an integral part of his plan since he would be starting his journey in the dead of night.
"As soon as we talked, I knew that we had to help. This is the reason that Lumintrail exists, for riders like Jacob who want to push their endurance, test their strength, their force of will on the back of a bicycle. A man who wanted to create an epic adventure and a memory that would last a lifetime. He had the goal and we had a major component, the bike light, that could help him achieve it. It was never a question of would we help but how best to." Sheerah Singer, Senior Marketing Associate, Lumintrail.
Lumintrail sent Jacob their most powerful light, the 3000 Lumen LED bicycle headlight, extra battery packs and two LED waterproof tail lights . Everything a rider might need to see and be seen at night on the road. Jacob has been sharing photos of his day and night training rides along the mountain over the past few months through his instagram account everestingmontblanc. Now that the goal has finally been completed and in amazing time no less, he shared his Everesting video of the ride.


(Greg Jacob at 4am after his climb up Cormet De Roseland and then descended toward Bourg-St-Maurice.)
"We got into the bicycle accessories industry for stories like Jacob. Maybe it was an endurance goal or a family adventure or possibly even a mountain bike trek, whatever the reason we wanted to help people have those experiences, create memories that they would have forever. Riding a bike isn't just about a frame and two wheels, it's about the people who climb on board and power it with their own energy, motivation and strength. As long as there are individuals who want to experience the world on the back of a bicycle, there will be Lumintrail expanding and growing our selection to give them what they need for their adventures."  -Ethan Zhou, President at Lumintrail.
About LuminTrail
Lumintrail is a specialized manufacturer and supplier of cycling and outdoor related accessories and gear. Lumintrail was founded in North Carolina in 2012 as a leading manufacturer and distributor of top quality bicycle lights and has since grown to include a comprehensive line of cycling and outdoor accessories. Built with the Lumintrail standard of reliability and value, products feature quality construction and innovative contemporary designs perfect for all levels of cycling and outdoor enthusiasts to enjoy. They are dedicated to providing quality products at an affordable price that allow customers to create memories, have adventures and enjoy the simple pleasure of riding their bicycle.
Lumintrail products can be purchased through their online retail and wholesale store at Lumintrail.com, as well as on the Amazon marketplace and Walmart.com.
Media Contact: Sheerah Singer, LuminTrail, + 919.985.2465 marketing@lumintrail.com
---